Mackmyra Vintersol (Winter Sun) is a Swedish single malt whisky created in collaboration with the Port wine producer Quinta Do Vallado, one of the oldest and most famous Quintas in the Douro Valley. The Swedish winter sun rarely visits as often as we like it to, and so we wanted the flavour of sun-soaked grapes to keep this whisky company. The aromatic profile of the whisky comes from finishing in casks that previously held port wine with notes of vanilla, chocolate and pepper. The resulting whisky is elegant with a light spiciness and notes of warm raisins, sun ripe fruits, tropical berries, buttery pear fudge, vanilla and toasted oak.
Nose: Spicy and herbal with fruity warm vinous grape tones and a minerality. Soft vanilla oakiness, with aromas of anise, ginger, raisin, pear caramel and vanilla.
Taste: Soft, fruity yet spicy with dried fruit, pears and raisins, ginger and vanilla. With a creamy and medium-rich texture.
Aftertaste: Fruity, spicy and oaky with warm raisins

Casks
1st fill Ex-Portwine casks,
500-700LNew and 1st fill American oak,
200-128L1st fill Ex-Bourbon,
100L1st fill Oloroso and Swedish oak, 100-128 L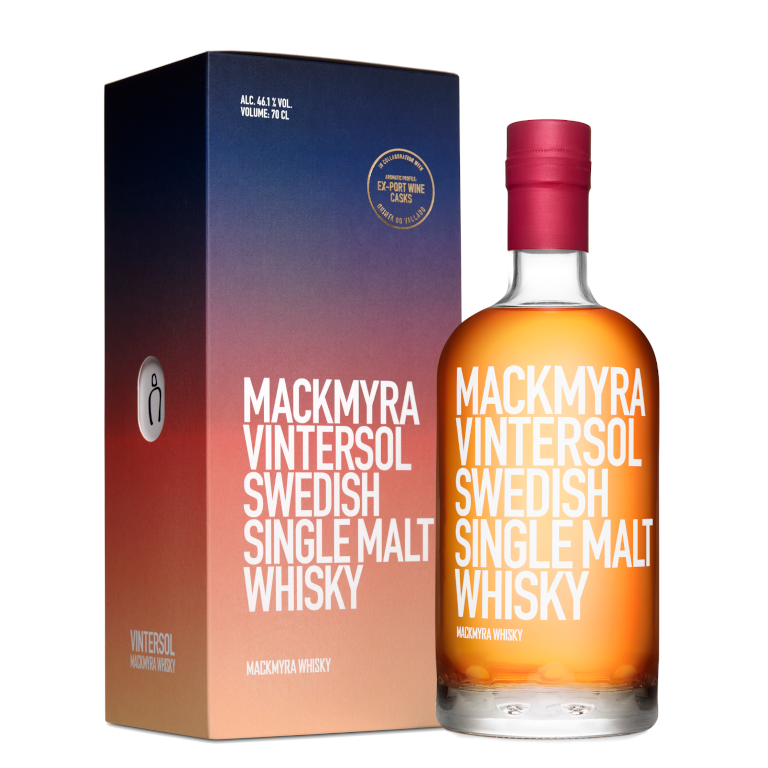 The famous Quinta Do Vallado was founded in 1716 and has since made its name as one of Portugal's best port wine producers. For over 300 years they have refined the methods of producing port wines of the highest quality. The challenge, however, is the same as always – finding the perfect balance.At the end of 2017, we went down to Portugal and started an exciting collaboration with Quinta Do Vallado. Their well-reputed port wine is a great match for our whisky and in early 2018 we sent down the first 30-liter barrels for saturation in their warehouse. Once in place, they were saturated by Vallados staff. That's when we started the process of preparing barrels to give Vintersol the perfect port finish.